brian and i had such a great christmas break. in fact, we decided we couldn't have asked for better. we spent about 5 days in idaho for christmas, then came back to provo for 2. to work. (brian works at the mtc, they don't get breaks.) then we headed back up to idaho for another 5 days.
the night brian and i got home. the 23rd. my family went christmas caroling to a few of the senior couples and widows from my home ward. we sang
this
version of i'll be home for christmas. miss morgan (the musical genius of the family) helped us all learn the parts.
it was fabulous seeing how happy our songs and plate of treats made everyone we visited.
it might have been my favorite thing we did all break, and i hope it becomes a tradition!
matt is just doing his own thing. surprise, surprise. :)
we did christmas eve with my mom's side. the night consisted of soup in bread bowls & the candy-bar game. just like every year. brian dominated in the candy-bar game. am I surprised? no. (that's what he's doing in the picture below. if you roll a 1 or 6 on a dice you get to get a candy-bar out of the pile. you don't want anyone to see what you get, or else they'll steal it later.) brian's 'laying on top of the candy-bars' tactic seemed to work. maybe i'll have him teach me. :)
christmas day. we woke up & did gifts before church. it was an early morning. and after church we talked to our favorite missionary brother in romania. he sounded great & looked even better. (we got to skype) then we headed to grandpa joneses. attendance was a little low this year, because the family seems to be spreading out more and more. but i still really loved being there, since i missed out last year. and those funeral potatoes & pretzel salad never tasted so good.
baby jane's first christmas.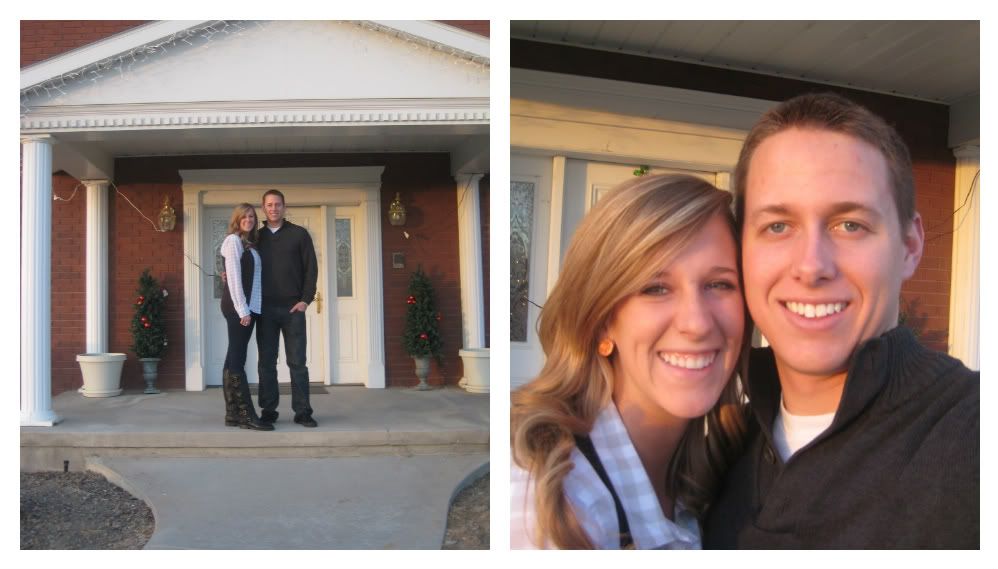 after christmas we went up and stayed in the ogden canyon with the fam for a few days. where we watched too many basketball games, played a few games, and spent a day skiing.
it has been a few years since the family has gone skiing together. (we used to do it a little too much when we were younger) it was a lot of fun. brian & i are going to try to make sure it happens more often than not. :)
it was a tad bit bright.
while in provo we got to hang out with brian's family. everyone was home, except for one brother and sister in law. we went up one night to have dinner and play games and brian's younger brother, greg, had a list of games all ready. and what order we were going to play them in. too funny.
four corners.
musical chairs.
who, what, where. (our new favorite game)
hide and go seek in the dark.
around the world ping-pong.
and we played every single one. :)
we ended the break with an awesome new years. we had a party with my jones cousins new years eve. and had a blast playing games. i don't think i've laughed that hard in a while....and then of course there was the JONES FAMILY BALL BASH. (my family is obsessed with basketball, so we play it every new years.) well the boys do. the girls go to chat and eat food. aaannd sometimes we do a few shooting competitions. :)
this is my cousin nat, who lives in texas, that I never see. people used to think we were twins, and get us confused all the time. and we never really understood why?
my husband can hold his own against all those jones boys. :)
we are looking forward to 2012. a year full of school & work. what else is new?
but we'll be that much closer to finishing, right?